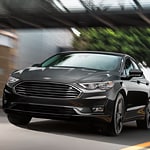 Rather than choosing a vehicle that has performance options, how about considering a vehicle that was built to perform? The popular Ford Fusion midsize sedan continues to get great reviews from its customers as it drives on highways all over the U.S.
The Ford Fusion comes with Intelligent, all-wheel drive which continuously monitors data to help improve the driver's handling and traction abilities. The electric power-assisted steering helps the driver make the best choices pursuant to road conditions.
Reading about performance is not as fun as getting behind the wheel and pushing buttons to activate the controls. We at Lithia Ford Lincoln of Grand Forks invite our friends in Grand Forks to stop by and get to know the Ford Fusion personally. Take it for a test drive and experience first hand what superior performance feels like driving around town. We await your arrival and believe that you'll agree that the performance of the Ford Fusion makes a difference.